GRANULE-COATED SHINGLE TECHNOLOGY
In an asphalt shingle a layer of impregnated fibreglass is enclosed between two layers of bitumen. Consequently, the shingle is dimensionally stable, is not affected by high temperature changes and remains perfectly impermeable. The top layer is then coated with ceramised granules, which protect the bitumen layers from UV rays and colour the shingle. The granules are coloured by means of a ceramisation process which is done at extremely high temperatures, while the use of inorganic pigments guarantees that the colour won't wear or wash off. A layer of siliceous sand prevents the asphalt shingles from sticking together and allows them to be transported and handled more safely in building yards.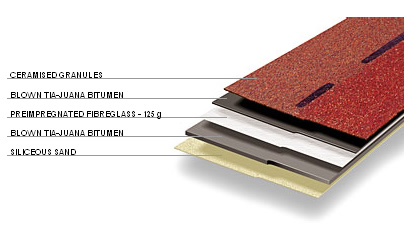 Heavy fibreglass: 125 gr/mq
Special bitumen from Venezuela
Colouring of the granules by means of a ceramisation process inside high-temperature furnaces with the use of inorganic pigments
Perfect UV protection
The shingles are available both in one colour or in two-tone colours for a more beautiful visual effect
Concealed heat-adhesive points confer added wind resistance and are not visible once the shingles have been laid.